Before diving in and buying the first rug that catches your eye, there are a few things to consider:
Purpose: why are you wanting a rug? Is it to soften a living room with hardwood floors? Are you wanting to use it as your colorful, bold focal point? Determining your rug's purpose will help you select the right pattern and material.
Durability: if your rug will be in a high-traffic area (like an entryway) you will want to go with something that can easily be washed (we love Ruggable!). Avoid materials like jute for areas that will see a lot of traffic and vacuuming – it doesn't hold up to constant action.
Pet and kid-friendly: while there are so many more rug options these days for high-traffic areas, being aware of your rug's use may sway you to select a darker color over something like white or cream. If your rug will be prone to muddy paws, go with something that has a darker color scheme and a pattern, as light, solid colors tend to show imperfections.
Size: One of the easiest ways to throw off the balance of a room is with an incorrectly-sized rug. Rugs serve as anchors and focal points, so it's really important to get the size right! The good news is that it's not tough to figure out the size that you need. Just follow our handy guide, and we promise you'll get it right!
A general rule we tell our clients when placing furniture on rugs is that if you do it for one, you do it for all. For example, if the front legs of the couch are on the rug, then all furniture within that setting should have its front legs on the rug. If your couch is off of the rug, so should your accent chairs.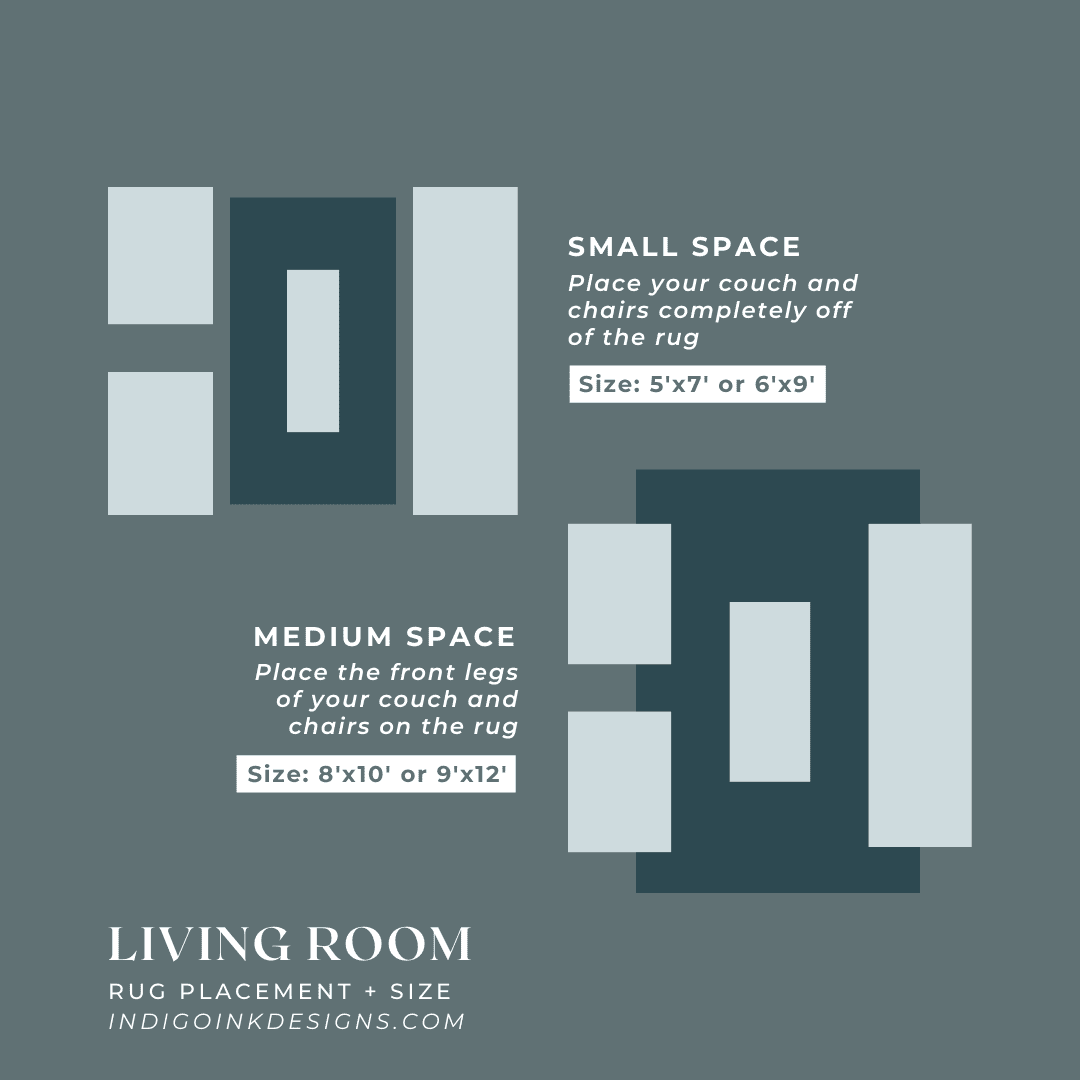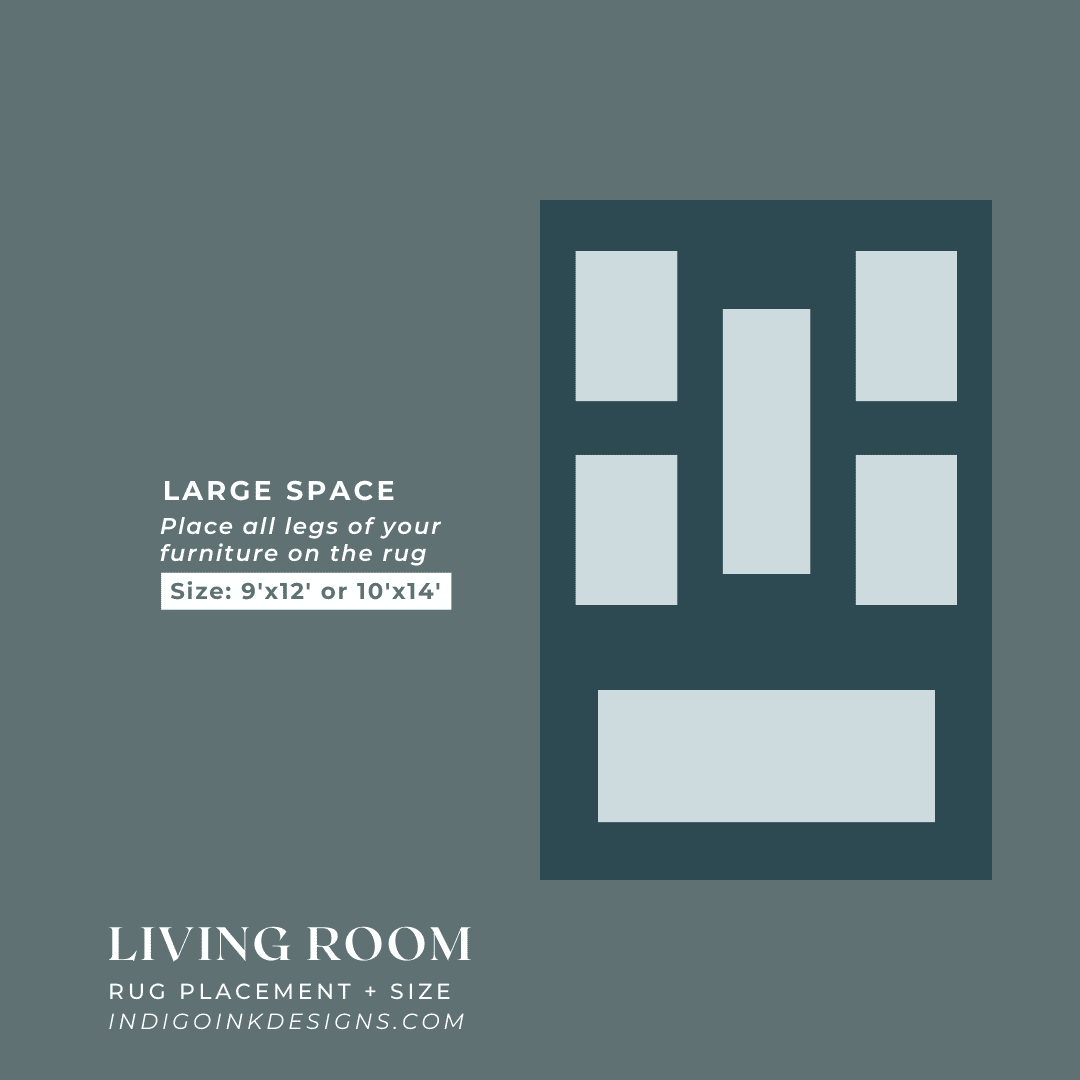 Living Room
We prefer to set the front of the sofa on top of an area rug, and you want to make sure that the length of your rug is longer than your couch. This is especially important in larger, more open spaces with longer (or L-shaped) couches.
However, this doesn't always work with different room sizes. We follow these basic guidelines for small, medium and large rooms.
If you have a small space, opting for a smaller rug (5×7) allows you to build your furniture around the perimeter of the rug (with the coffee table in the center) while still adding warmth and color without making it feel crammed.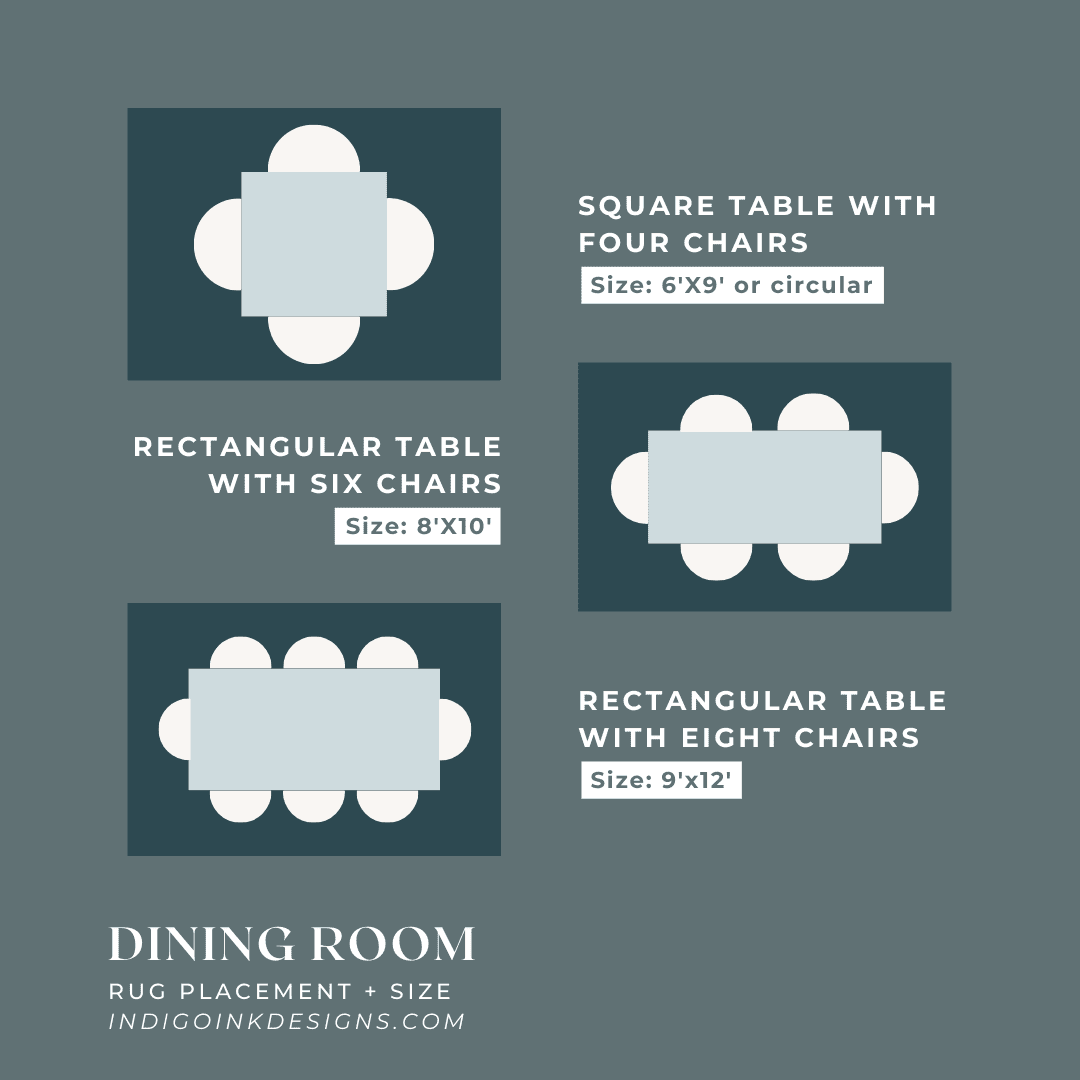 Dining Room
When selecting a rug for your dining room, we always make sure that when the chairs are pulled out from the table, they still fit comfortably on the rug (we don't want guests sitting half on and half off).
An easy way to determine your rug size is by pulling out all the chairs as if you're eating and measuring the length from the back of each chair (across the table). With those measurements in mind, that's the minimum rug size you will want.
If you use leaves only a couple times a year, we recommend buying the right size for how you most often use the table.
6 chair table – 8×10

8 chair table – 9×12

10 chair table – 10×14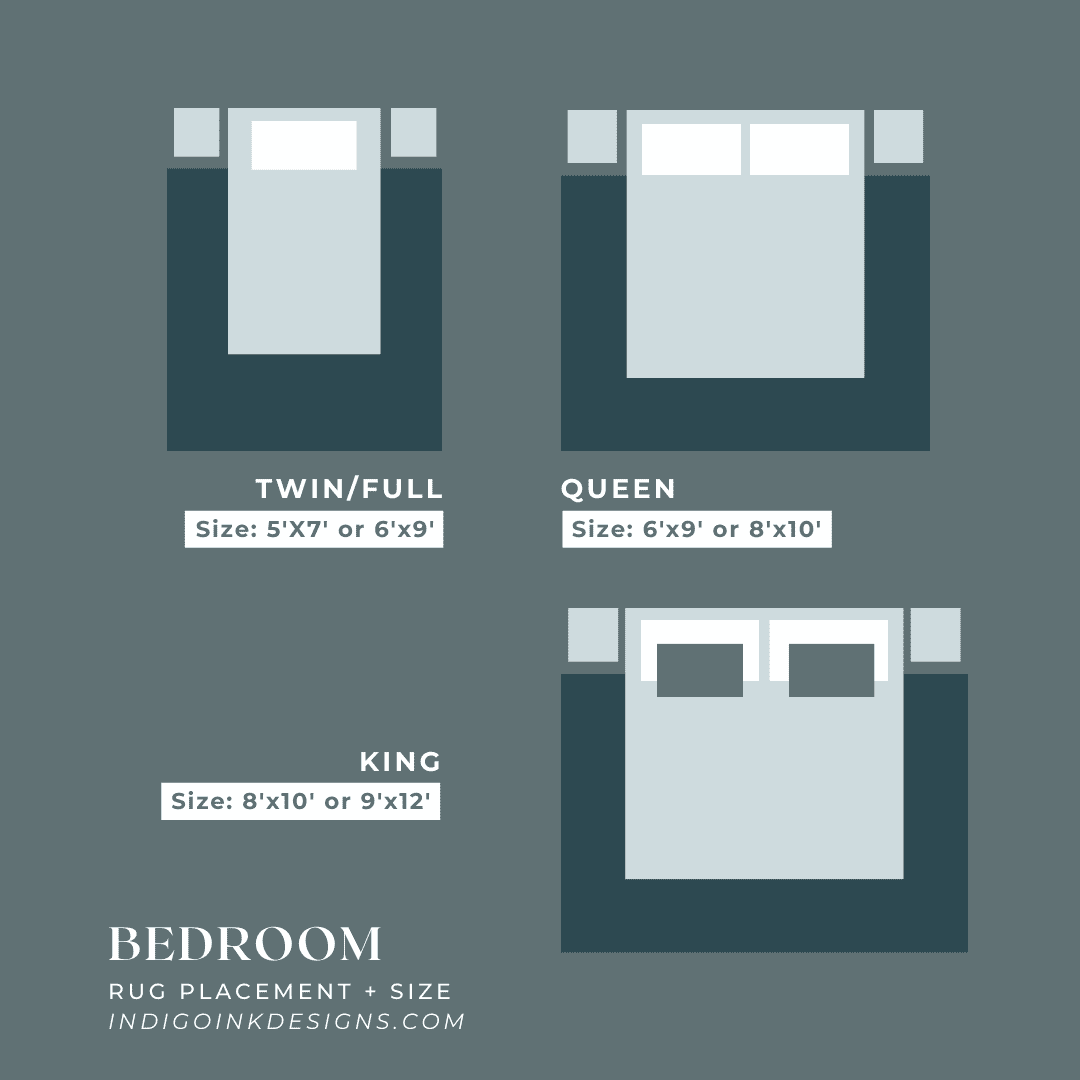 Bedroom
Rug placement in a bedroom is pretty simple – lay your rug perpendicular to your bed and pull it a bit after the halfway point (right before the night stands). The key to selecting the right size is by making sure the rug extends at least 12" (aim for 24" if you can!) from either side of your bed frame.
Again, it's important to consider the size of your room before purchasing a rug. For smaller rooms where an area rug takes up most of the floorspace, opt for an accent rug on the side of the bed.