ONE ROOM CHALLENGE FALL 2023 // Week 1
The One Room Challenge® is a biannual event every spring and fall. Everyone with a blog or Instagram account is welcome to join the fun as a Guest Participant (ME!) by registering for the event with the room or space you plan to transform. Every Wednesday during the event, which lasts eight weeks, we link our weekly project updates on this site, and spectators and fellow participants can easily follow along by browsing the linkup page.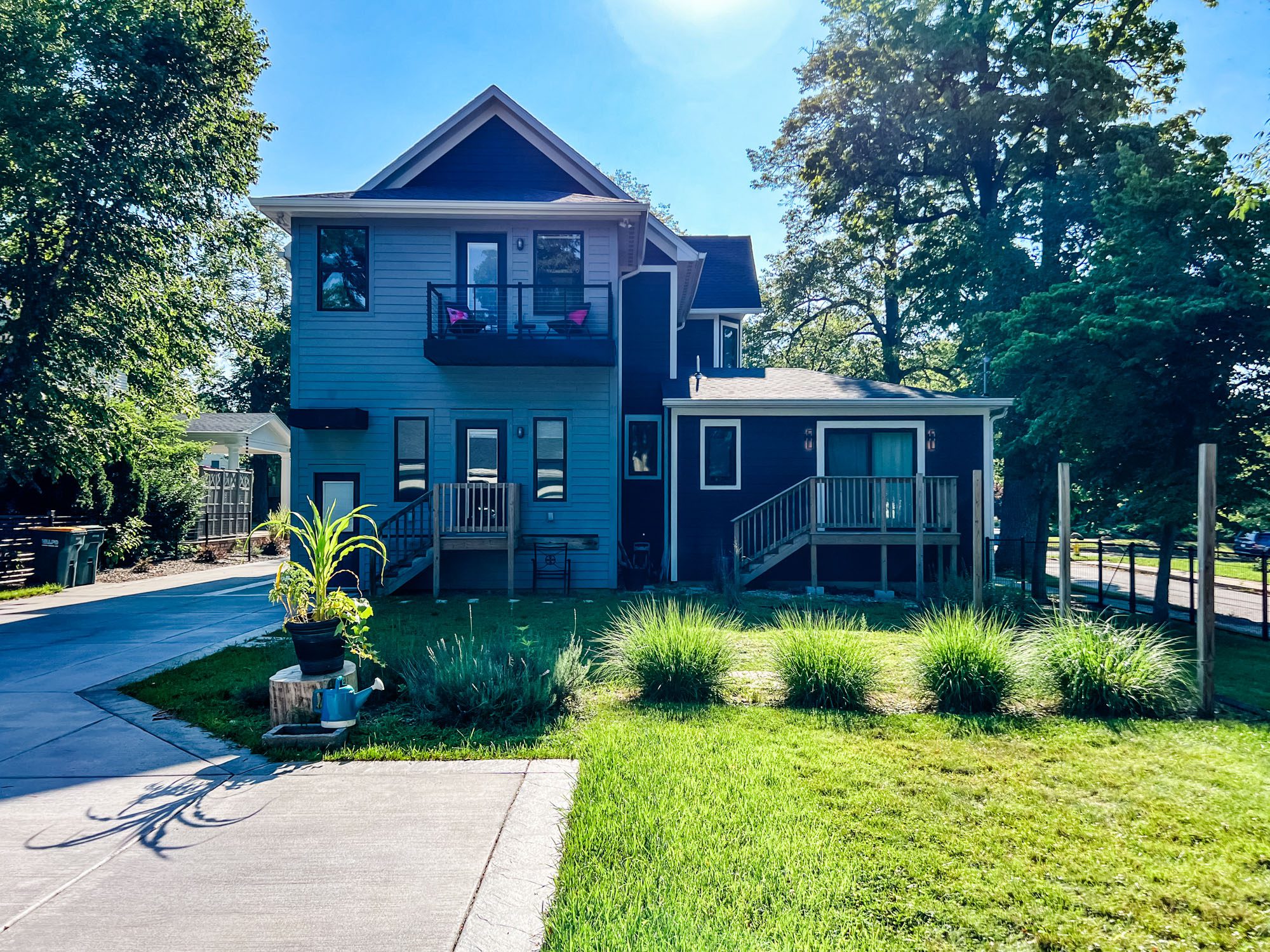 Hey there, I'm Melissa! I'm an Interior + Architectural Designer and founder of Indigo Ink Designs. In 2012, we bought a purple, 19th century, 2-flat home in sad shape. We've spent the past decade renovating this Victorian-turned-modern #purplehouseproject near Chicago into my dream home. (I say my dream home, because I dream up all the crazy ideas I want to execute, and my family is just along for the ride!)
Let's get started! I say let's start, but I really hope we can finish Phase 1 of this project before winter sets in here in the Midwest (fingers crossed)! This is my first go-round with ORC, so why not dive right in with a huge undertaking?! The space we are about to tackle has been sorely neglected for several years; even as the rest of the house has had major renovations, this space has only had a tiny touch of TLC. But now it's time to truly embrace it as part of our living space rather than the weed pit of neglect it is now.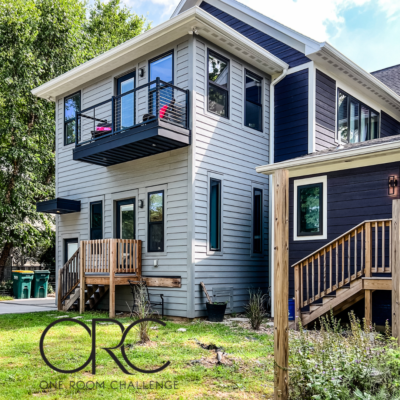 Although this is my first time participating in One Room Challenge®, I've been observing for years – which is how I discovered some of my favorite designers. My mind is full of ideas, and I love working on my own house because I can challenge myself creatively and go for all the crazy things I dream up, but clients are afraid to try.
MOVING IN
This fall, I'm tackling Phase 1 of our outdoor deck/patio/"room" situation–let's go with Outdoor Oasis.😉 But before I show you what I have in mind, let's start with what it looked like when we bought the house in 2012. It was a little rough, drab, and had a few flaws we discovered right away.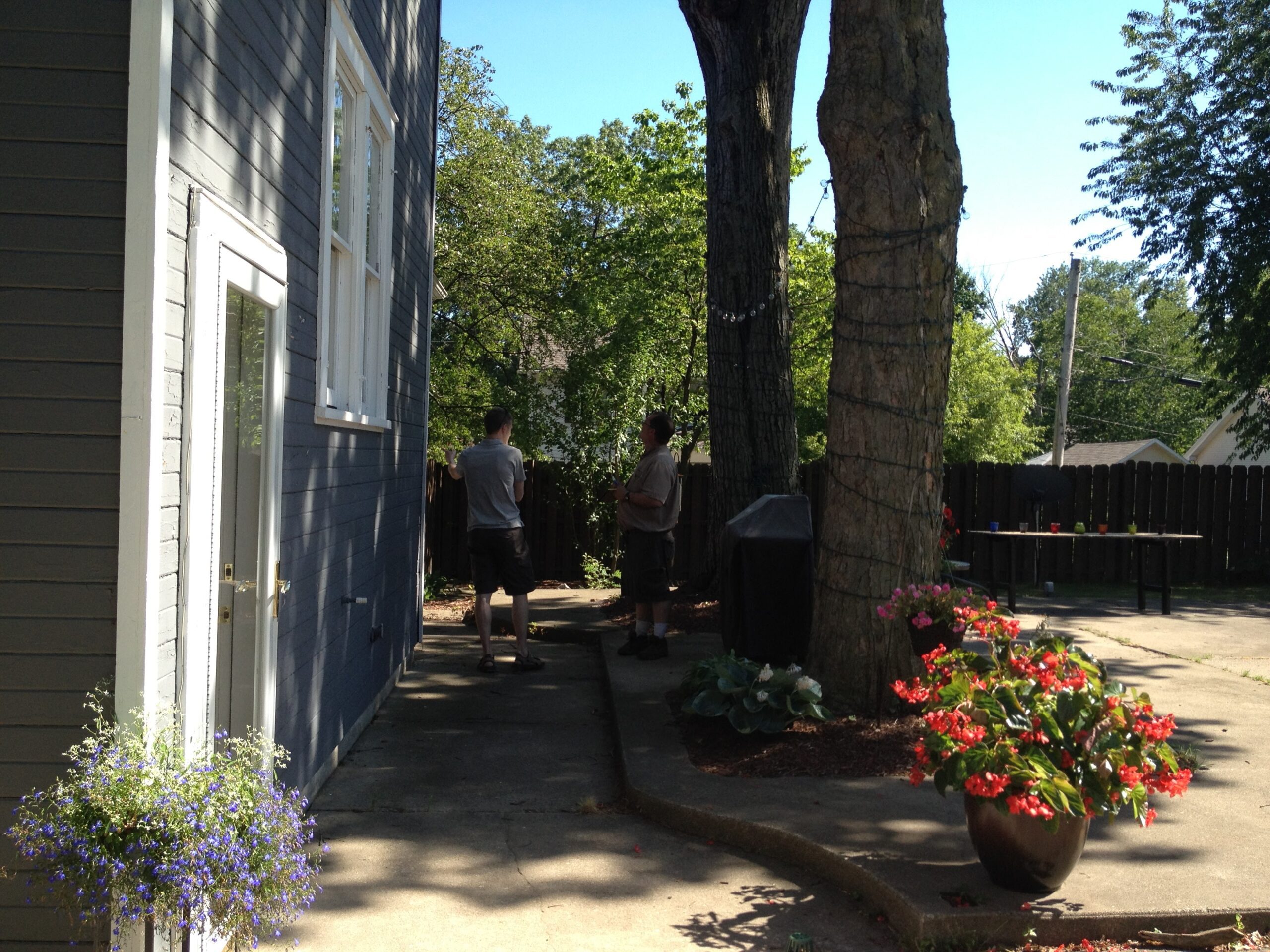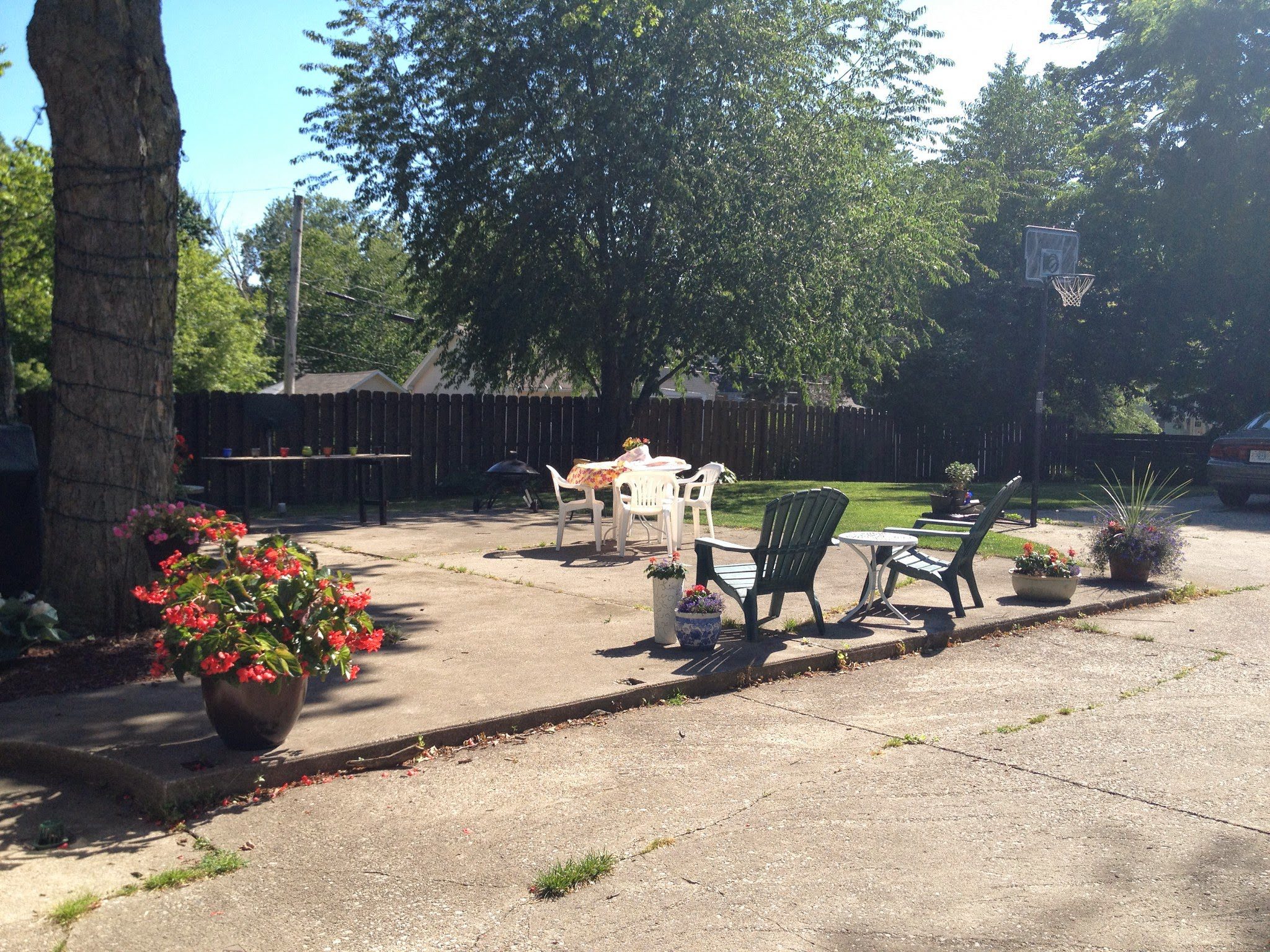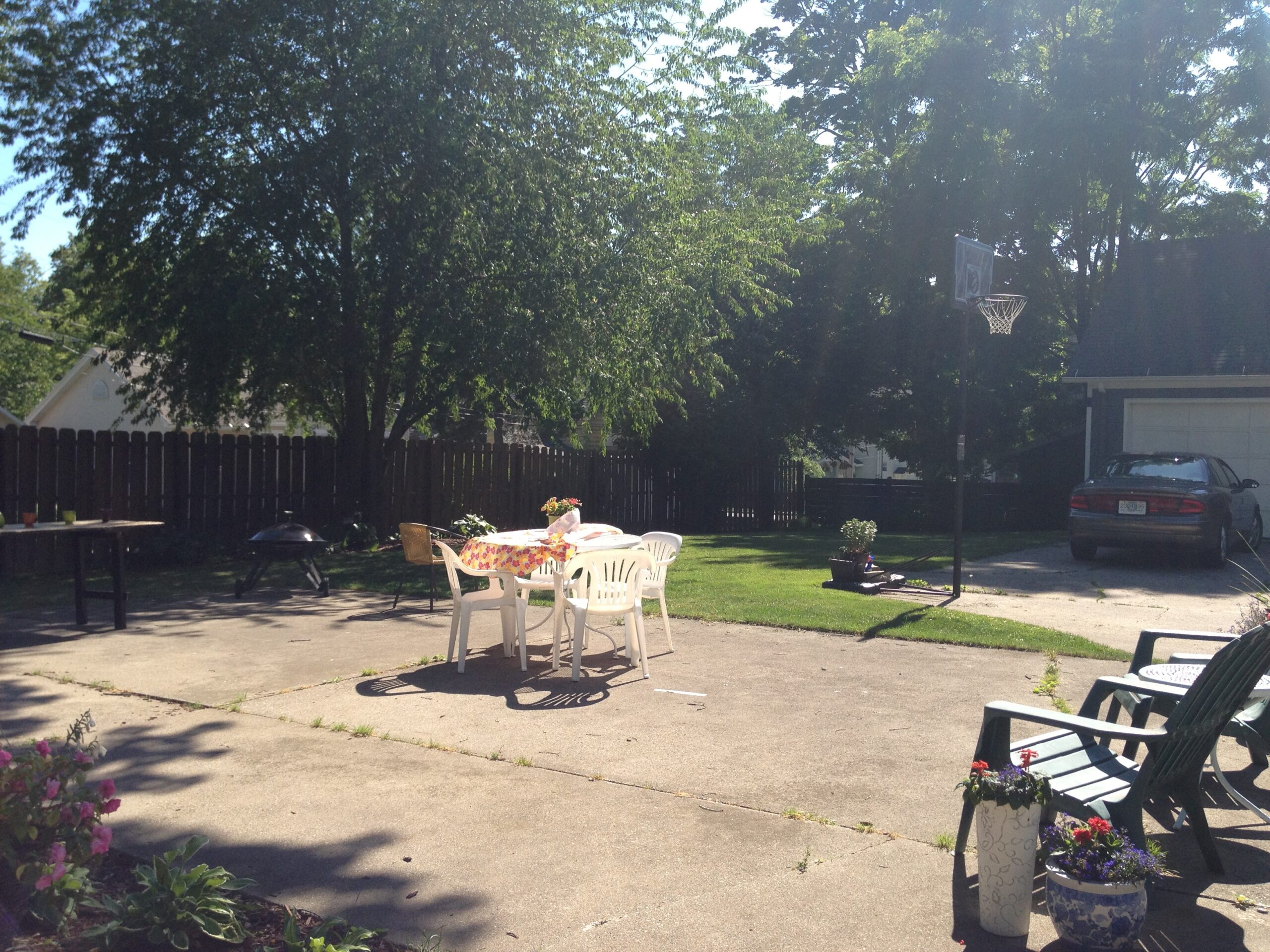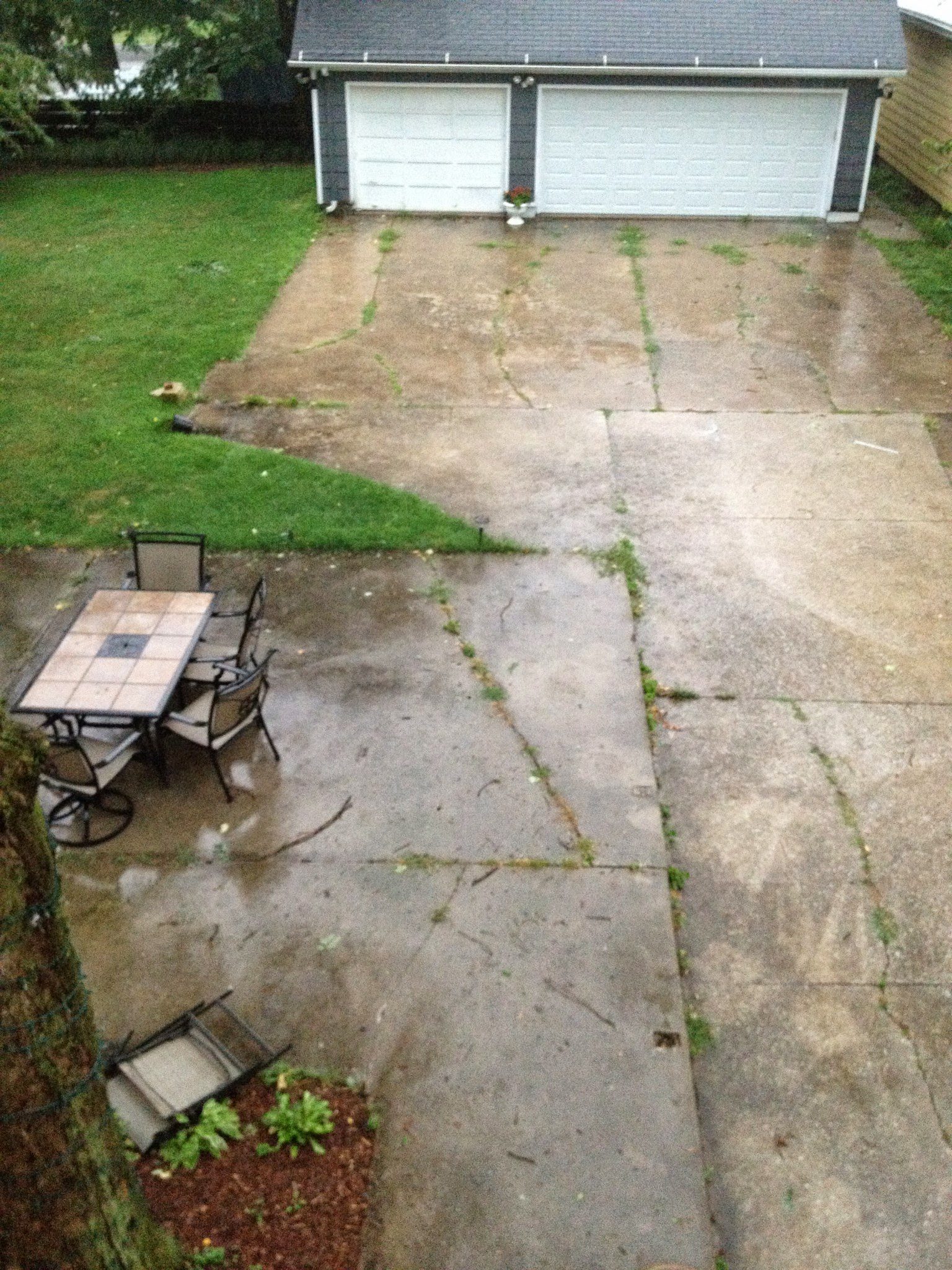 LEVEL UP
Upon our first night of homeownership here, there was an epic rainstorm with massive flooding. So, although I had big dreams of taking on some pretty renovations, we had to keep water out and away from the house… NOT as fun!
But a couple of years later, we also tackled the sleeping porch addition on the back of the house, which was not original to the house but was very old. Thus, it was poorly insulated, had broken, single-pane windows, and after our earlier gut-reno of the second floor, the stairs had to be reversed. It was a snowball effect, but in the end, we tore it off and rebuilt it with an additional few feet to accommodate the necessary "guts" – including a new mudroom, 2nd-floor laundry, and sitting room + balcony adjacent to the primary bedroom.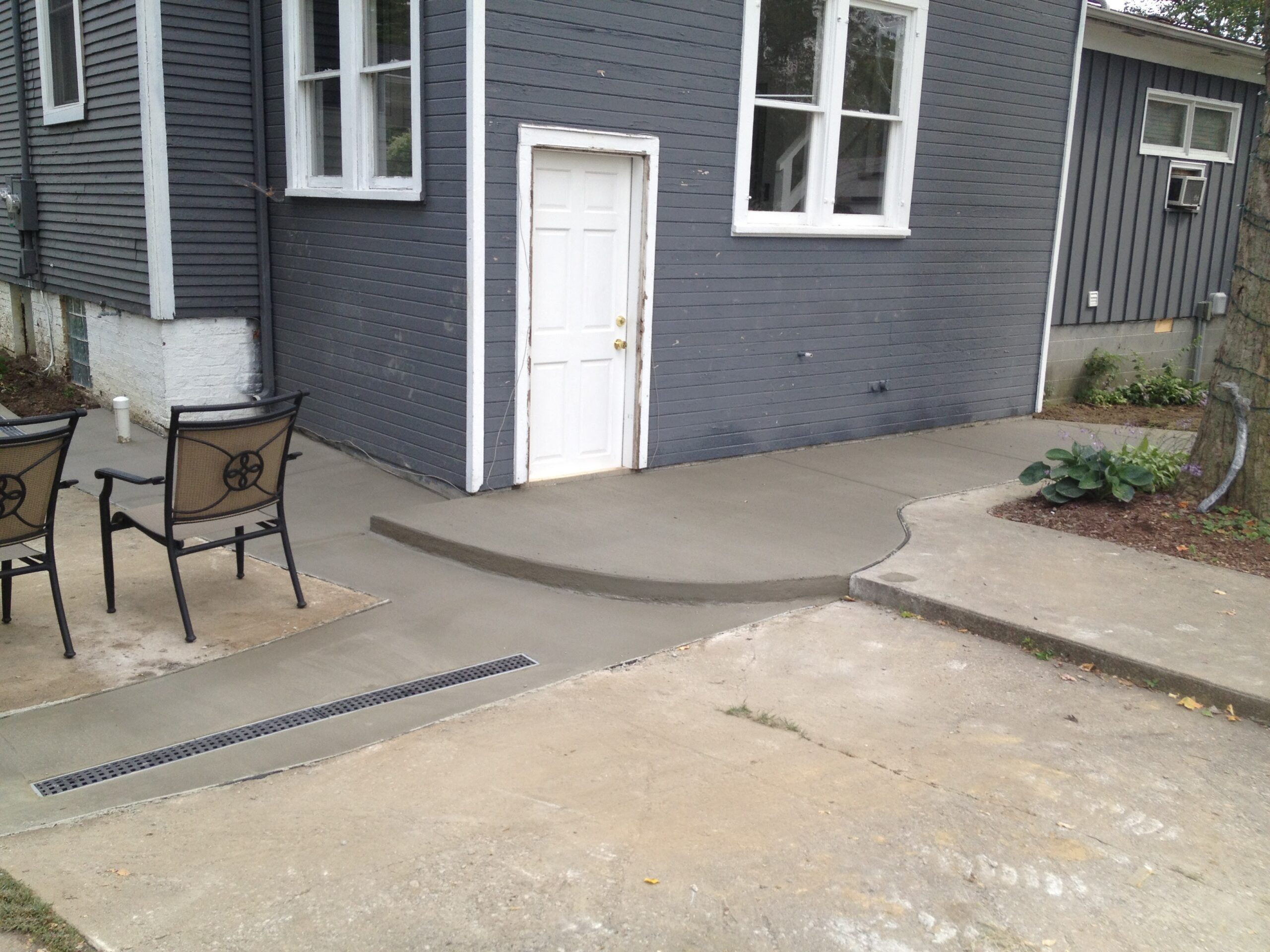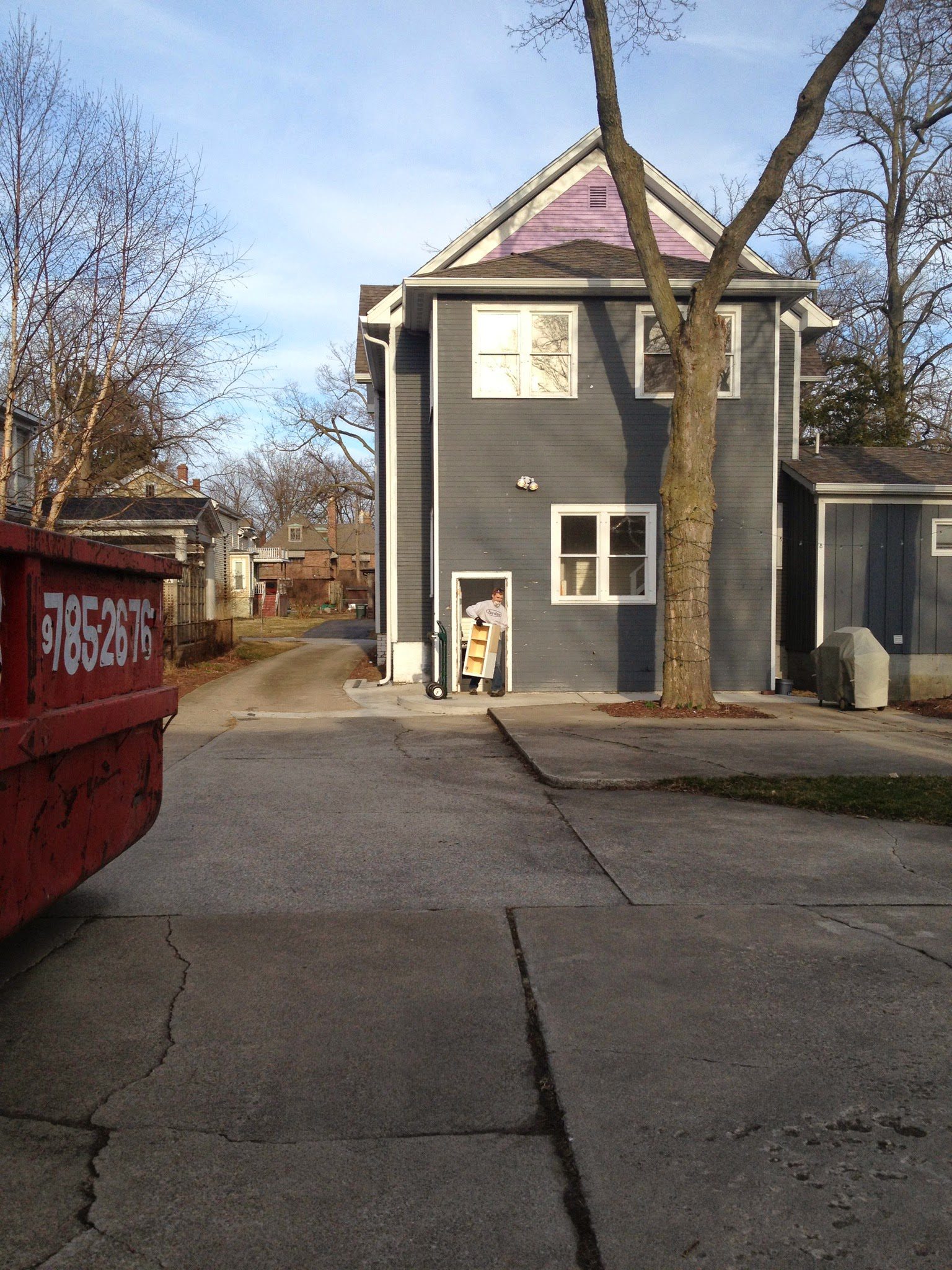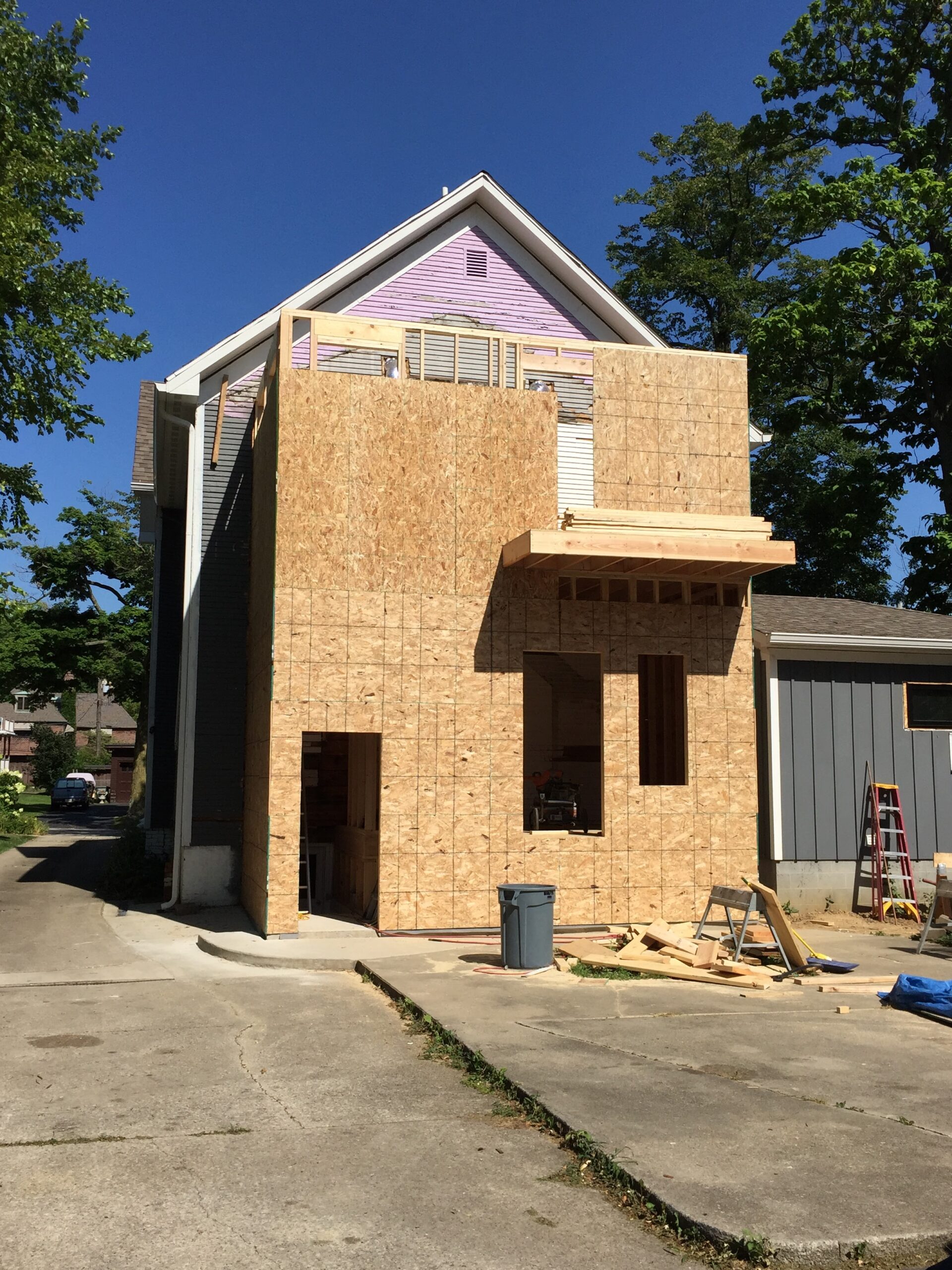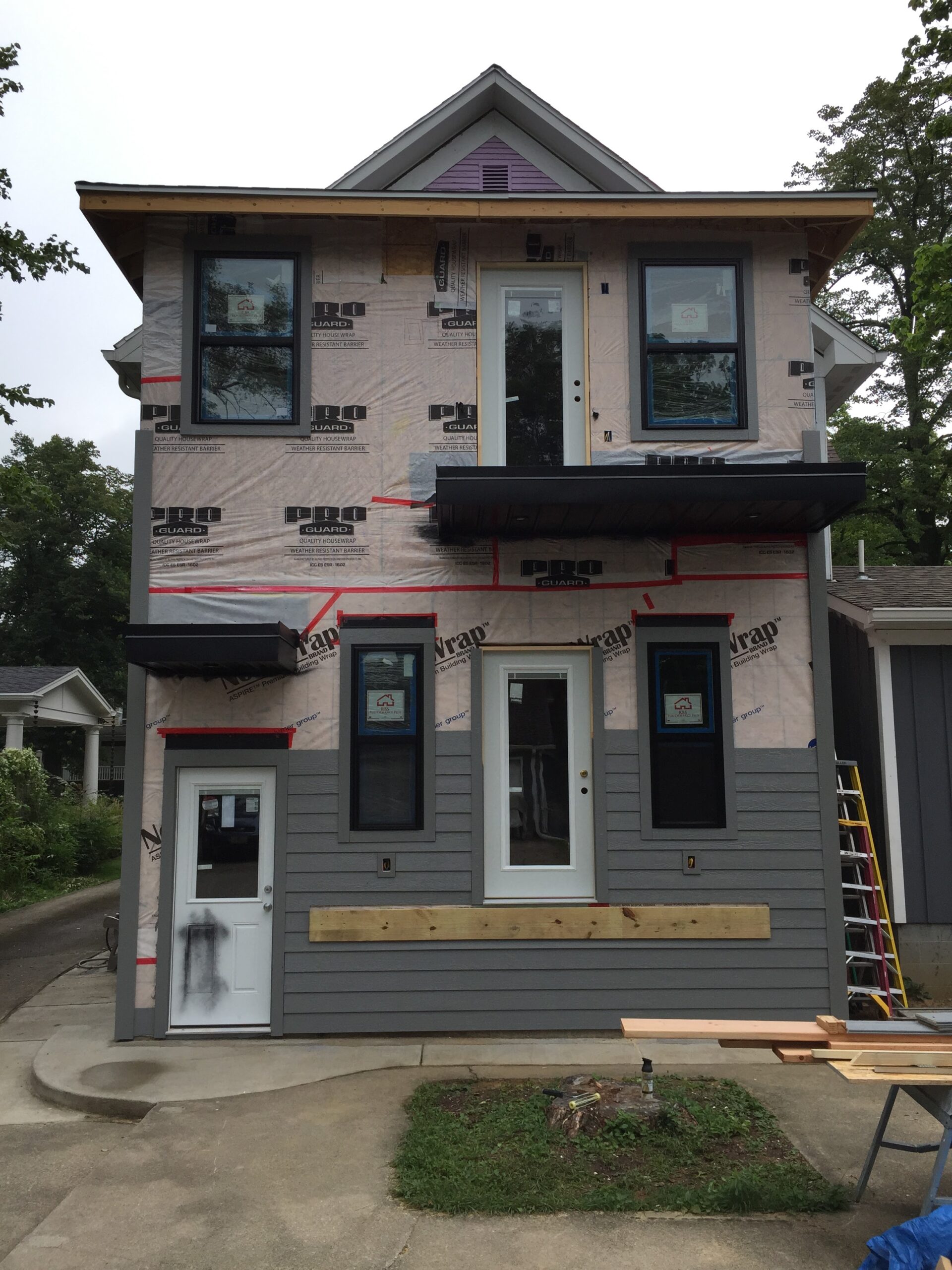 CURRENT STATE OF AFFAIRS
The last big project we tackled was replacing the driveway. The house was previously owned for years by a family who owned a concrete factory, which means that baby was solid. But it was also old and cracked, and time to go. While the heavy equipment was here, I also had the vast amounts of additional patio concrete removed. Since then, it has taken me time to finalize a design scheme, thus, the aforementioned weed pit.
We have installed temporary stoops off each of our back doors; however, they have carried us through several years while we saved and planned. We have also done a bit of landscaping, removed two large dead trees, and a LOT of patio concrete. The upside: It's kind of a blank canvas. The downside: We're starting from scratch, which means it's costly💰, and my design dreams and budget never align.
This is where we're starting. We now have good things going on at the perimeter of the project zone, but we need to address this eyesore and turn it into something both functional and BEAUTIFUL!!!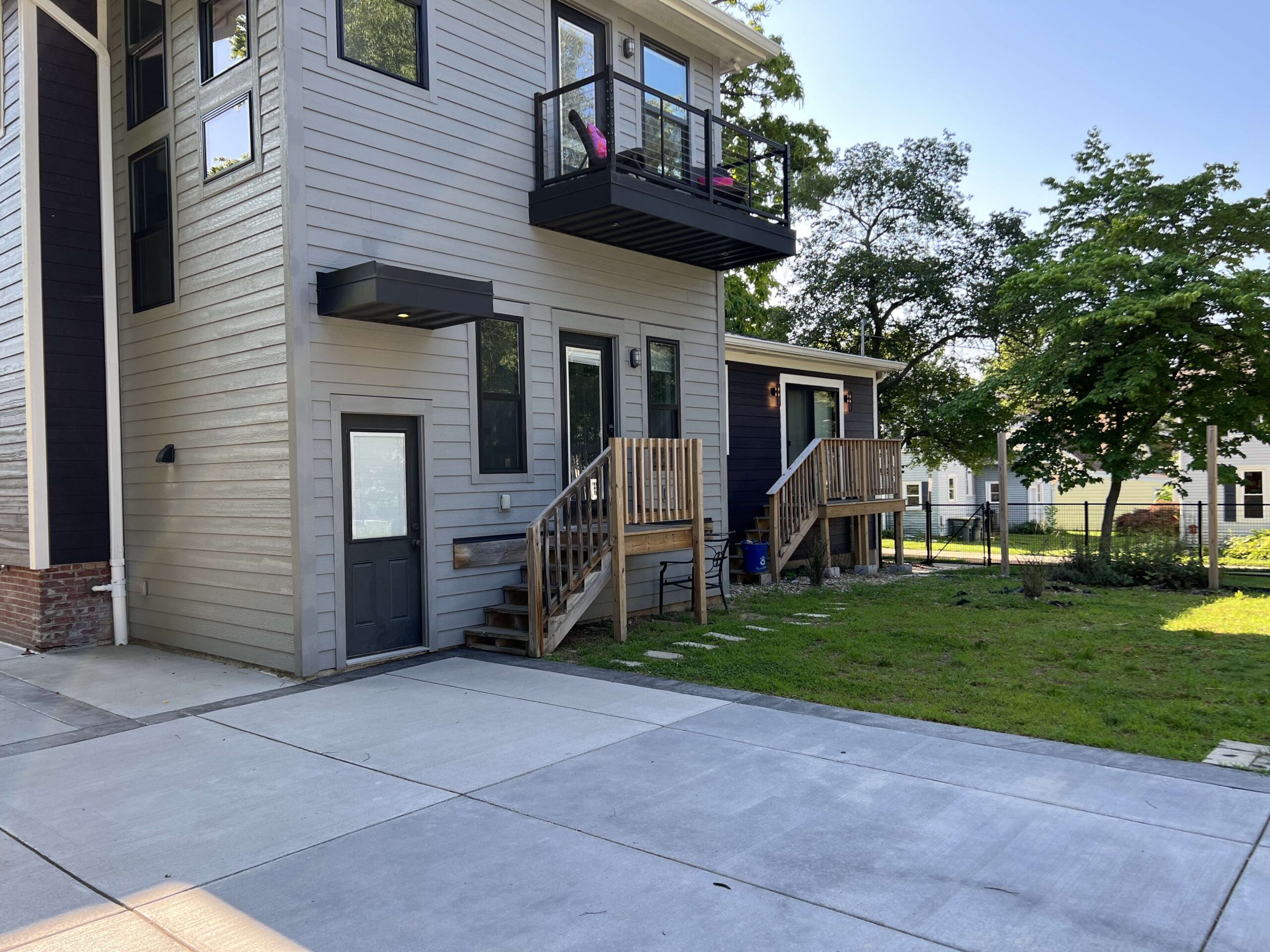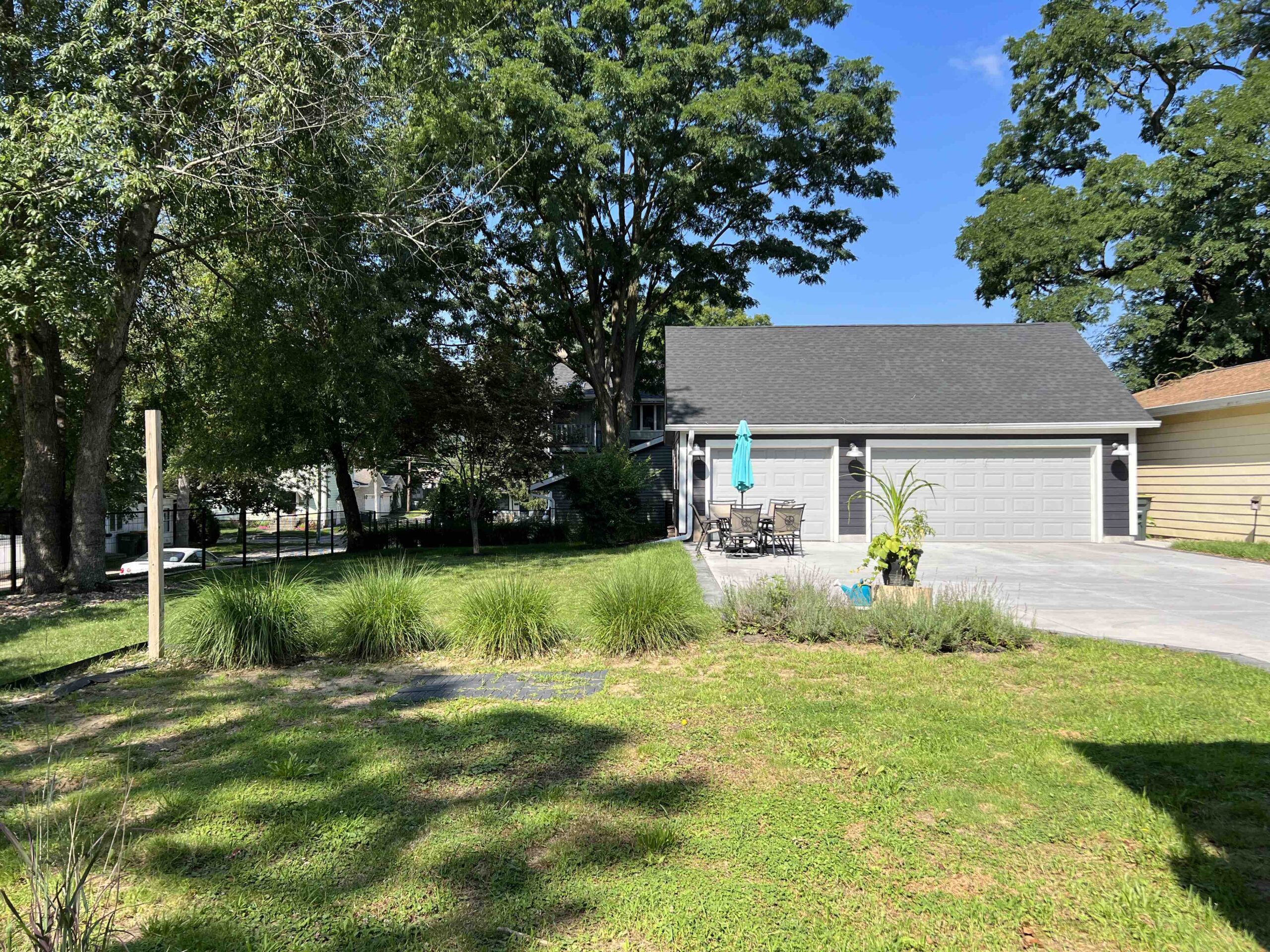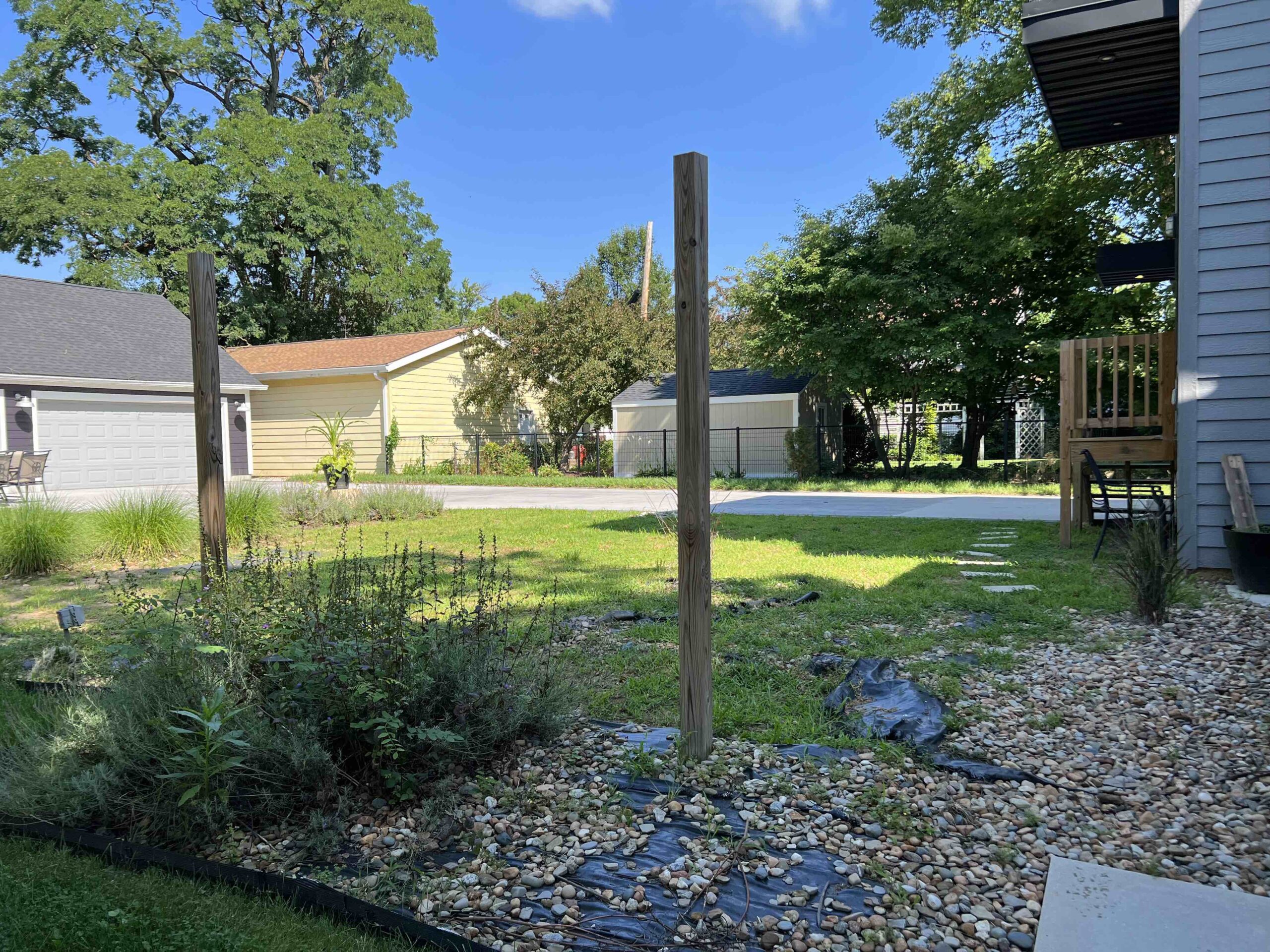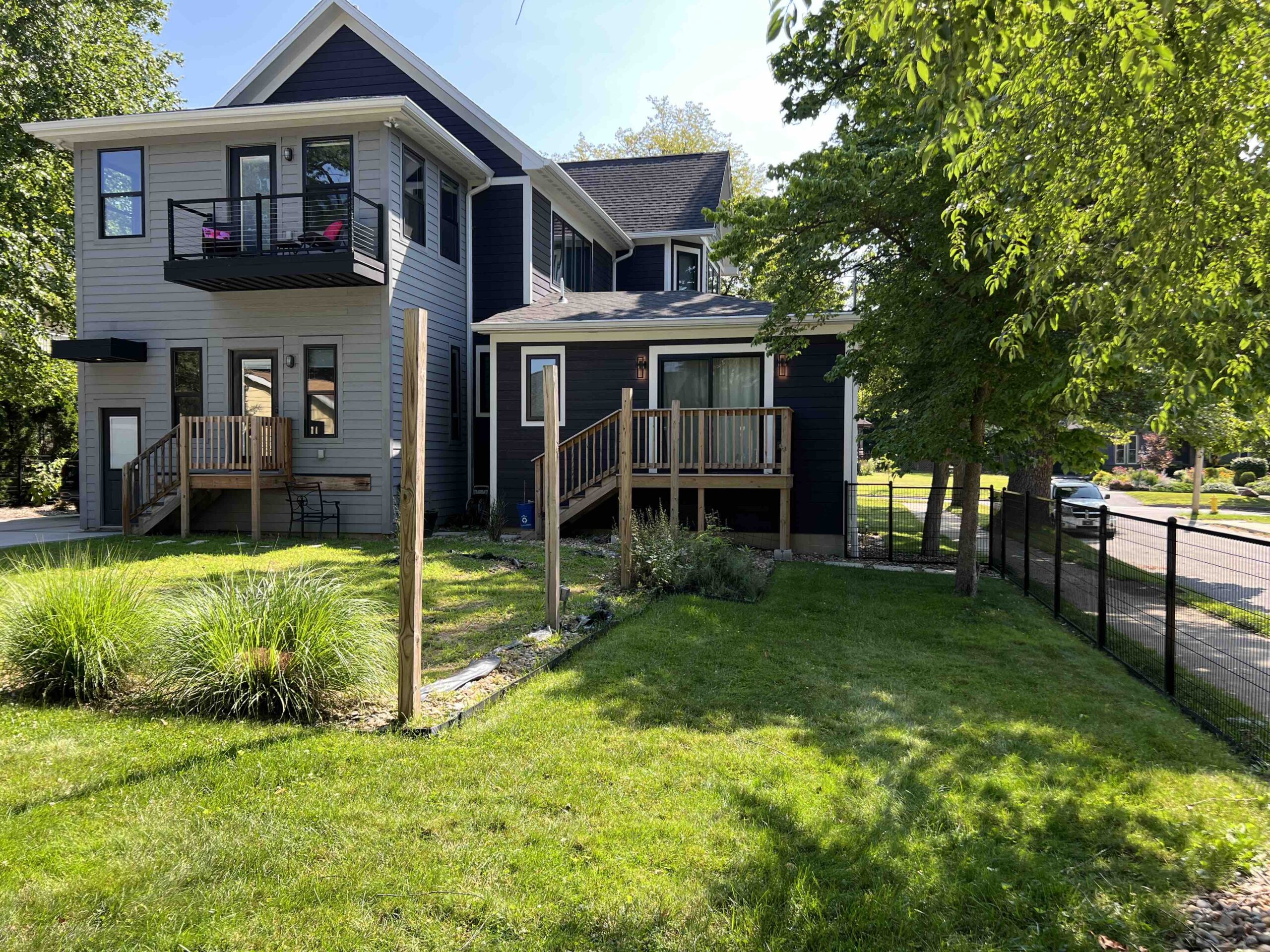 TIME FOR A GLOW-UP: THE PLAN
Although I have grand plans, both our budget and the fast-approaching winter season may shrink the scope of what can happen now, so I've broken it down into what I think can be done this year vs. what will be better to wait until Phase 2. Next week, I'll share more details on the materials I'm incorporating and the design direction, but for now, let's talk about the broad strokes of this plan and what's inspiring the project.
WISHLIST
Here is where we're starting… and below, I've diagramed the zones I want to pack into this plan. Included in my wishlist are:
A transition from the inside to the outside with an elevated zone
Firepit with seating
Shade with some dining & lounge seating–I burn just thinking about the sun
(Minimal-maintenance) Landscaping to add privacy to our corner lot, as well as soften the perimeter of the lot
Hardscaping to travel across the property
Landscape lighting
Integrated seating
No railings around the deck
…and this is after I've edited several "nice to haves" out of the plan.😉
INSPIRATION
I want this space to be in keeping with the modern touches we've added to the front elevation and interior of the house, with sharp lines and a warm, natural material palette. (Of course, we will infuse this with a few pops of our signature saturated colors.) I want to feel it to be an extension of our living space, to be used through the seasons. There are so many projects that have inspired me throughout this planning.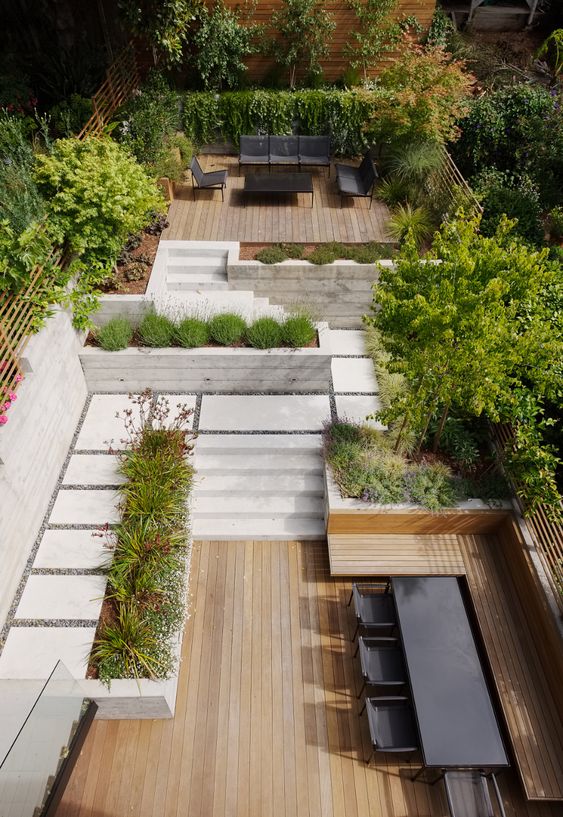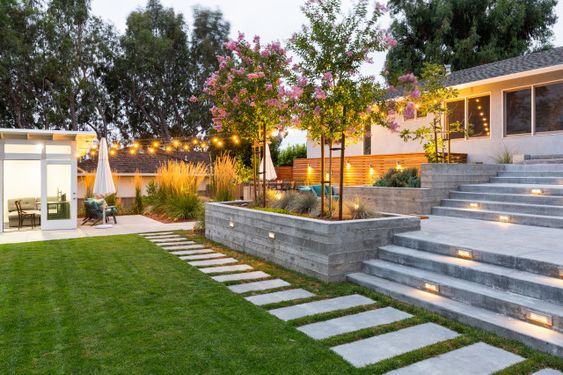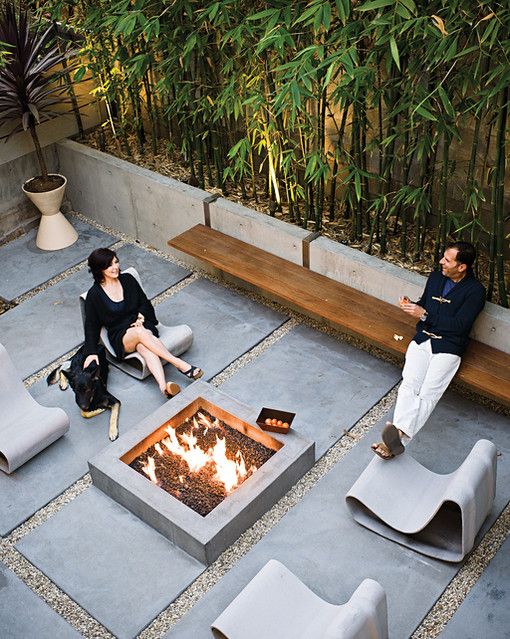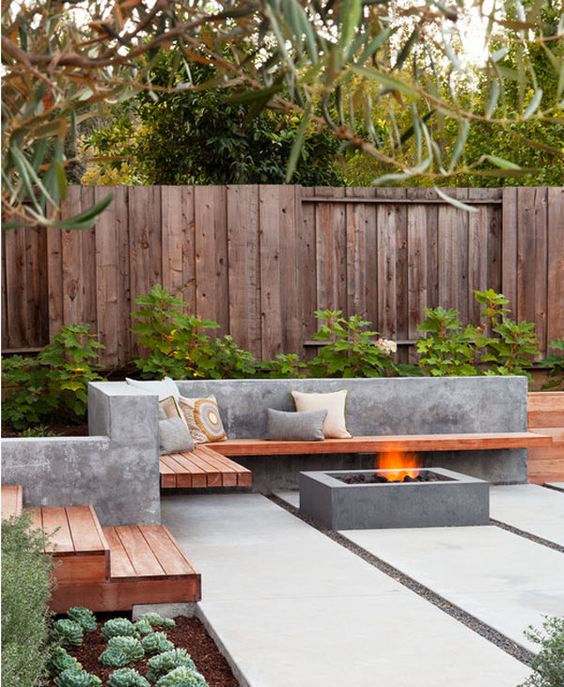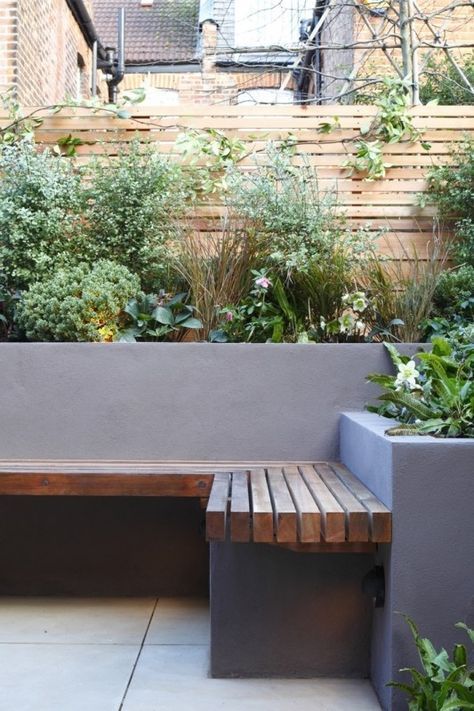 Check back with us next week for our discussion of the materials, moodboards, and a sneak peek of the full design plan. I'll also talk about how to interview contractors. Lots of good content coming up!
Be sure to check out the One Room Challenge® page for other great designers, and follow along with their project journeys over the next eight weeks!